The 2012 Nissan Pathfinder from Reliable Nissan is the embodiment of ardent automotive craftsmanship built to fit the needs of NM Nissan buyers. Reliable Nissan is elated to present the 4-door 2012 Nissan Pathfinder Midsize SUV. As your Albuquerque Nissan dealer, we hope you find our 2012 Nissan Pathfinder reviews and research materials beneficial in finding the features, specifications and information you've been hunting for. View Reliable Nissan's new lineup of 2012 Nissan Pathfinder Midsize SUVs.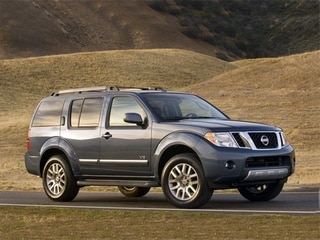 Reliable Nissan presents the 2012 Nissan Pathfinder Midsize SUV
Consumers find that when they compare the 2012 Nissan Pathfinder to other makes like the GMC Acadia, Ford Explorer, Mazda CX9 and Buick Enclave, the Nissan Pathfinder distinguishes itself as the most fun to drive. Take a look at our Quick List spec table below to see why!
The 2012 Nissan Pathfinder has an starting MSRP of $28,570
The 2012 Nissan Pathfinder gets 15 city / 22 highway MPG
The 2012 Nissan Pathfinder goes from 0-60 MPH in 7.8 seconds
The 2012 Nissan Pathfinder features 42.4 inches of legroom up front and 34.2 inches in back
The 2012 Nissan Pathfinder features 40 inches of headroom in front and 39 inches in back
The 2012 Nissan Pathfinder is 192.3 inches long, 72.8 inches wide and is 72.2 inches tall
The 2012 Nissan Pathfinder weighs 4621 pounds and has a turning radius of 39.2 feet
We know you'll like the Nissan Pathfinder - visit Reliable Nissan in Albuquerque today!
The 2012 Nissan Pathfinder is a rugged force of nature that carves its own path in the midsize SUV segment. It can tread rocky backcountry roads with ease, yet if you compare it to a luxury SUV you won't see much difference. The Pathfinder is a debonair road warrior, perfect whether you need a vehicle with truck-like towing abilities or a sophisticated ride that can get you to and from work with plenty of features to keep you entertained on the drive. For a low MSRP of $28,570, Albuquerque Nissan shoppers can get an impressive vehicle with lots of passenger room, remarkable power and loads of fun features. Its stellar combination of affordability, power and advanced technology make it a great option over vehicles like the GMC Acadia, Ford Explorer, Mazda CX9 and Buick Enclave. Visit Reliable Nissan to find a new or used Nissan Pathfinder for sale today. We have a large selection of pristine 2012 Pathfinder SUVs, along with a great collection of low-mileage, late-model-year used vehicles like the 2010 and 2011 Nissan Pathfinder. Stop by our Albuquerque Nissan dealership to check out our inventory.
Since its redesign in 2004, the Nissan Pathfinder has remained one of the easiest off-roaders to maneuver in difficult conditions. It is robust and roomy, with space for up to seven people. The Pathfinder's front seats offer comfort for those long hauls, while the second and third row seats fold flat, creating extra cargo space. This prized midsize SUV has won many prestigious awards, including AutoPacific's 2010 Best in Class Vehicle Satisfaction Award. Today, you can find both new and used Nissan Pathfinders for sale at Reliable Nissan. Trims include the S, SV, 25th Anniversary Silver Edition, LE V6 and LE V8. Come in to find the Pathfinder in attractive colors like Navy Blue, Brilliant Silver, Red Brick, Dark Slate, Avalanche and Espresso Black.
The 2012 Pathfinder from Reliable Nissan comes with a host of high-end and high-tech amenities that offer fun, convenience and safety. Equipped with a slew of advanced security features, such as stability control, traction control, antilock disc brakes, front seat active head restraints and airbags, Albuquerque Nissan Pathfinder owners will feel secure on the road. Inside of the Pathfinder's cavernous cabin, features like Bluetooth, a Bose sound system and satellite radio provide entertainment for you and your many passengers. Other various features include keyless entry/ignition, heated front seats, driver memory functions, dual-zone automatic climate control, a rearview camera, rear air conditioning and much more. Visit our Albuquerque Nissan dealership to learn about each specific trim's unique set of features.
You'll also want to visit Reliable Nissan to test drive this cutting-edge SUV. The 2012 Nissan Pathfinder comes with a 4.0-liter DOHC V6 engine that gets 266 horsepower and 288 lb-ft of torque. This V6 is standard on all models except the top-level LE V8 trim which utilizes a powerful 5.6-liter DOHC V8 with 310 horsepower and 388 lb-ft of torque. The LE V8 is the fastest and most powerful of the bunch. It can tow up to 7,000 pounds and can go from zero to 60 mph in seven seconds. However, both of the 2012 Pathfinder's engine options provide ample capacity for work duty, and braking is assisted by fine-tuned antilock programming that prevents wheels from locking on steep hills and loose surfaces.
Visit Reliable Nissan to test drive the 2012 Nissan Pathfinder! This incredible truck-based SUV was built to explore new paths, and when you get behind the wheel, you'll be inspired to take the road less traveled. Make a stop at your premier Albuquerque Nissan dealer today to explore our collection of new and used Nissan Pathfinder SUVs!
Owning a Nissan Pathfinder from Reliable Nissan makes NM driving comfortable, safe and pleasurable - all at the same time! Here's why:
Reliable Nissan has a enormous stock of 2012 Nissan Pathfinder Midsize SUVs with standard Nissan safety features like anti-lock brakes, traction control, driver airbags, passenger airbags, side airbags and more, making the 2012 Pathfinder an NHTSA and IIHS favorite. In addition to these safety features, the 2012 Nissan Pathfinder can amply seat up to 7 passengers. Trunk space with Nissan is never a worry; the Pathfinder can hold up to 16.5 cubic feet of your personal belongings, ensuring that your next drive is hassle-free. To top it all off, the 2012 Nissan Pathfinder includes an unbelievable list of comfort and convenience features like powered windows, mirrors, doors and locks, climate control, AC and optional hands-free phone and navigation systems. Take a test drive at Reliable Nissan today and experience the Nissan Pathfinder for yourself.
The Nissan manufacturer's warranty covers the Pathfinder for manufacturing defects and has a 3 years / 36,000 miles Nissan warranty. Nissan has worked for years to minimize its environmental impact; as a result, the Pathfinder's carbon footprint is minimal. Not surprisingly, with all of the Pathfinder's advantages, this reliable Nissan Midsize SUV retains a high percentage of its value at 3 years and 36,000 miles, which makes the Nissan Pathfinder a great used buy! When seeking a safe, stylish and economical Midsize SUV, Albuquerque Nissan buyers should head to Reliable Nissan, located at 9951 Coors Blvd. NW in Albuquerque, NM
Nissan Pathfinder service information for Albuquerque
Nissan Pathfinder lessees and owners in Albuquerque have discovered that Reliable Nissan at 9951 Coors Blvd. NW in Albuquerque is the very best choice for Pathfinder warranty work, regular maintenance, inspections and mechanical repairs. At Reliable Nissan, Certified Nissan Technicians trained in the very latest corrective and diagnostic techniques work for one thing - your complete satisfaction. Whether it's time for your Nissan to have an oil change, tire rotation, or simply undergo Pathfinder Scheduled Maintenance, Reliable Nissan is your first choice. Our Certified Nissan Techs also complete specialty jobs and repairs. Reliable Nissan is the smartest choice in Albuquerque for speedy, amiable and professional Nissan Service of all kinds.
If you'd like to make an appointment to have your Pathfinder serviced, click the link or just give us a call. See you soon!