Albuquerque Nissan Dealer Reviews the 2016 Pathfinder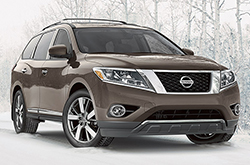 Versatile, fuel efficient and spacious, the 2016 Nissan Pathfinder is one of the most dependable and appealing crossovers on the market today. In Nissan's roster for over 30 years, the Pathfinder has always been a fan favorite among CUV enthusiasts. This year, the attractive model continues to offer more features buyers will love, including a new Cold Package option for the SV trim, revised interior materials and new standard equipment on the SL trim. Our 2016 Nissan Pathfinder review below features information on each of these fresh modifications along with details on the car's capable V6 engine.
Looking its absolute best this year, the 2016 Nissan Pathfinder in Albuquerque sports a few excellent updates. A Cold Package option is now offered on the SV trim, adding a heated steering wheel, heated outside mirrors and heated cloth seats to the Pathfinder. The SL trim also receives a standard heated steering wheel for 2016, which will come in handy during the cold winter months. Aside from this change, the crossover gets a brand-new Almond interior with black and beige materials, giving the model a more premium look and feel.
Powering the 2016 Nissan Pathfinder in Albuquerque is a 3.5L V6 engine. Delivering 260 horsepower and 240 lb.-ft. of torque, the displacement works alongside a continuously variable transmission. Additionally, both front-wheel drive and all-wheel drive configurations of the Pathfinder are available, but if you want to achieve the best fuel economy possible, the front-wheel drive model is the way to go. It produces an EPA-estimated 23 mpg combined, 20 city and 27 highway, while the all-wheel drive model produces slightly less fuel efficiency.