Albuquerque Nissan Dealer Researches the New LEAF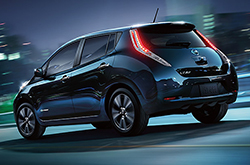 The 2016 Nissan LEAF is boasting a series of changes for the new model year. A variety of brand-new paint options have joined the color palette, select technologies have become standard on the model and a new battery is now available, offering additional range. Aside from these latest modifications, the all-electric LEAF continues to come in three trims - S, SV and SL - and offer a phenomenal driving range. Gaze over our 2016 Nissan LEAF review below to discover further details about the new LEAF and its many benefits.
If you're a fan of NissanConnect, you'll be glad to know the 2016 Nissan LEAF S model gains standard NissanConnect with Mobile Apps this year, while the SV and SL trims receive standard NissanConnect with Navigation and Mobile Apps. Additionally, the SV and SL grades come standard with NissanConnect EV system, which allows you to remotely monitor the car's battery, begin charging the car and turn on the heat/air conditioning in the car. When it comes to the LEAF's exterior color, buyers now have three new options to choose from: Deep Blue Pearl, Forged Bronze and Coulis Red. This brings the total number of available paint color options to eight, giving buyers a full host of color options for the 2016 Nissan LEAF in Albuquerque.
The most notable addition to the 2016 Nissan LEAF in Albuquerque is the newly available 30 kWh battery. Standard on SV and SL trims, the battery delivers a best-in-class 107-mile driving range, which is a 27 percent increase over the previously standard 24 kWh battery. On the base S model, the 24 kWh battery is still standard and offers an EPA-estimated 84-mile driving range. If you plan on driving outside the city, we suggest going with the SV or SL model offering the extended range.
Want to learn more about America's favorite electric car? Scroll down and keep reading our 2016 Nissan LEAF review.