Check Out the New 2015 Quest From Reliable Nissan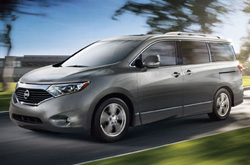 The Nissan Quest has been a fan favorite for many years, as families have flocked to the minivan for its spacious passenger and cargo room, fun driving feel and excellent fuel economy. This year, the 2015 Quest is getting a few updates that are sure to excite families looking for their next minivan. Our Nissan Quest review is here to walk you through all the terrific features on its newest incarnation.
The 2015 Nissan Quest in Albuquerque comes in four trim levels: S, SV, SL and Platinum. While most features on these trims carry over into the 2015 model year (including the Quest's impressive cargo space), our 2015 Nissan Quest review did find some excellent new features on the minivan. Our favorite feature was the expanded display screen that has grown from 4.3-inch to 5 inches. This expanded screen is not only a great tech enhancement, but also a fantastic safety feature, as it allows drivers to see the screen better so they don't have to take their eyes completely off the road. This feature also comes with Bluetooth capabilities and satellite radio.
New Mexico drivers will find other new safety features on the 2015 Nissan Quest in Albuquerque, including the Moving Object Feature that alerts the driver to any moving objects (re: children) that might be behind the vehicle. This feature, along with the other standard tech and safety amenities, is why we recommend going with the Platinum trim, which offers the most features and the best power.
The Quest's incredible power is produced by a 3.5-liter V6 engine, which is paired with a continuously variable transmission that not only saves money at the gas pump, but also makes the Quest a very fun van to drive.
The 2015 Nissan Quest minivan is now in Albuquerque, so stop by our showroom and test drive this fantastic minivan that is the perfect option for New Mexico families.�