NV Cargo Update from Albuquerque Nissan Research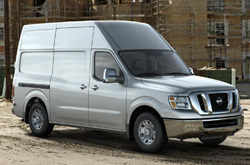 Nissan's NV lineup is considered some of the best cargo and passenger vans on the market today and offers a bevy of features and amenities that small business owners can customize for whatever they might need. These new Nissan work vans are getting a few nice engine enhancements this year as well as some fun tech upgrades that shoppers will love.
Van shoppers will have their choice between three NV options: NV Cargo, NV Passenger and NV 200. This biggest updates for the 2015 model year are on the NV Cargo and NV 200.
Looking first at the 2015 Nissan NV Cargo, Albuquerque drivers will find most features carry over from last year with the exception of a brand-new SL trim. This trim comes with a new security system, chrome accents, extra side-impact airbags and a rollover sensor. The NV 200 Compact Cargo van adds several new features, including rear sonar, a sliding glass door, an Xtronic transmission and an updated HD alternator.
Under the hood,2015 Nissan NV van shoppers will find three engine options to choose from. Drivers can choose either a 5.6-liter DOHC alloy V8 or a 4.0-liter alloy V6 on the NV Cargo or the NV Passenger. Our 2015 Nissan NV review recommends going with the 5.6-liter V8, as it offers the most power (317hp).
The NV 200 is powered by a 2.0-liter DOHC four cylinder that rates at 131 horsepower, which gives the smaller van a perfect amount of power that enables comfortable handling. The NV 200's power is funneled through an Xtronic transmission, while the NV Cargo and NV Passenger are paired with a five-speed automatic transmission. Our 2015 Nissan NV review found that these engines also offer improved fuel economy over last year's models.
On the tech front, look for the NV lineup to sport the newest version of the NissanConnect system that has added SiriusXM, voice recognition and text message alerts.
The 2015 Nissan NV lineup is now in Albuquerque so stop by our showroom today and test drive these great vans!