About the Nissan Altima in Albuquerque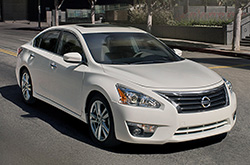 The Nissan Altima has been described by many as the perfect family sedan thanks to its refined driving style, excellent fuel economy and comfortable interior. This year, the Altima is adding a few new features that are sure to impress sedan shoppers looking for the new 2015 Nissan Altima in Albuquerque.
The Altima comes in two configurations (2.5 or 3.5). Each configuration offers different levels of power, with the 2.5 coming with a 182 horsepower 2.5-liter four-cylinder engine and the 3.5 coming with a 270 horsepower 3.5-liter V6. Our recommendation is to go with the 3.5-liter V6, as it offers the most power and the best driving feel.
Drivers will also be able to choose between three trim options on the 2015 Nissan Altima. Our review suggests going with either the SV or the SL trim on the 3.5 configuration. These trims offer excellent tech features that accentuate the Altima's already lush interior nicely. And with the Technology Package now newly standard on both trims, you're looking at a powerful and convenient family sedan.
Features on the Technology Package include a 7-inch touchscreen, voice controls and a navigation system. Also look for leather upholstery, heated front seats, LED taillights and a nine-speaker sound system by Bose to round out the standard tech features on the SV and SL trims. Our 2015 Nissan Altima review loved the sedan's interior, especially its high quality materials, including its much lauded NASA-inspired "zero-gravity" front seats.
The plethora of safety features on the 2015 Nissan Altima mean Albuquerque drivers should feel secure in picking the Altima as their next family sedan. These features include a rearview camera, lane-departure warning, rear cross-traffic alert and blind-spot monitoring. The Altima has some of the best crash test ratings on the market with the NHTSA awarding it five stars in both total side impact and total front impact.
This fantastic new sedan is now available at our showroom, so stop by today and test drive the 2015 Nissan Altima.�