Quality Nissan Frontier Research From Reliable Nissan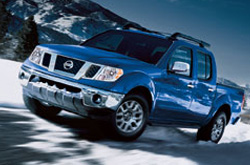 In western locales like Albuquerque, the pickup truck is as ubiquitous as the prickly pear, but a lot easier to use. While you'd better know what you're doing in preparing prickly pear cactus, the Nissan Frontier pickup truck is extremely user-friendly. Especially the 2014 Nissan Frontier with new standard features that include a Bluetooth hands-free phone system - so you've got backup at your fingertips. Also new to 2014 is an enhanced navigation system with smartphone integration and improved voice recognition and device control. You can be off-road and keep both hands tightly on the wheel while calling for directions or explaining to your friends who are no longer behind you that they missed that dirt track turn-off.
In a small segment like mid-sized trucks where many of Frontier's competitors have gone by the wayside (i.e. Canyon and Ranger), the Frontier's only substantial competition comes from the Toyota Tacoma, which offers a less comfortable ride than the Frontier, and a less classic pickup body. The Frontier is built on the same rugged platform as its full-size big brother, Titan, and uses many of the same design components for suspension, allowing Frontier to tow loads like a full-size pickup (6,500 pounds with RWD V6). So if you're looking for a real truck, only smaller, continue on with this 2014 Nissan Frontier review. As you scroll down, you'll find sample 2014 Frontiers for sale in Albuquerque, plus stats and a video overview of Frontier features.
The 2014 Frontier is offered in King Cab (back-hinged rear doors and back jump seats), with a 5-foot standard or 6-foot optional bed; or Crew Cab with full-sized conventional passenger doors and back seat and a 6-foot bed. A 2.5-liter four-cylinder engine is standard, or opt for the more powerful 4.0-liter V6 with 261 horsepower.
By clicking on the 2014 Frontier listings you see below, you'll see option details for that model. Just click the "request more info" button on the detail page - or call us at Reliable Nissan if you have any questions about a vehicle, Nissan financing in Albuquerque, or if you'd like schedule a test drive.