The 2012 Nissan GT-R from Reliable Nissan is the embodiment of dedicated automotive craftsmanship built to fit the needs of NM Nissan buyers. Reliable Nissan is proud to present the 2-door 2012 Nissan GT-R Midsize Coupe. As your Albuquerque Nissan dealer, we hope you find our 2012 Nissan GT-R reviews and research materials helpful in finding the features, specifications and information you've been hunting for. View Reliable Nissan's new lineup of 2012 Nissan GT-R Midsize Coupes.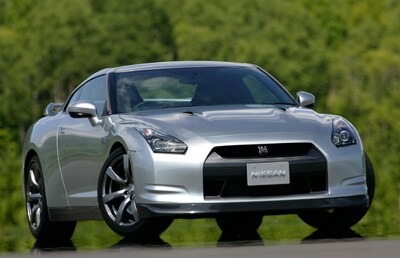 Reliable Nissan presents the 2012 Nissan GT-R Midsize Coupe
Buyers find that when they compare the 2012 Nissan GT-R to other makes like the Porsche 911 Carrera, Chevrolet Corvette Z06, Audi R8 and BMW 650, the Nissan GT-R emerges as the most fun to drive. Take a look at our Quick List spec table below to see why!
The 2012 Nissan GT-R has an starting MSRP of $84,060
The 2012 Nissan GT-R gets 15 city / 21 highway MPG
The 2012 Nissan GT-R goes from 0-60 MPH in 2.8 seconds
The 2012 Nissan GT-R features 44.6 inches of legroom up front and 26.4 inches in back
The 2012 Nissan GT-R features 38.1 inches of headroom in front and 33.5 inches in back
The 2012 Nissan GT-R is 183.1 inches long, 74.9 inches wide and is 54 inches tall
The 2012 Nissan GT-R weighs 4669 pounds and has a turning radius of 36.6 feet
We know you'll be fond of the Nissan GT-R - visit Reliable Nissan in Albuquerque today!
The GT-R may only be a few years old but this sports car prodigy has already become a legend. Achieving fame and success both on the road and on the racetrack, the supercar continuously leaves the Porsche 911 Carrera, Chevrolet Corvette Z06, Audi R8 and BMW 650 in its dust. Already incredibly impressed by previous models, Edmunds.com stated that the new "2012 model positively stunned us into silence." In its fourth year of production, the 2012 Nissan GT-R comes with several enrichments. A stylish Black Edition model has been added to the lineup, the V6 pumps out even more horsepower and the GT-R's exterior design is more aerodynamic than ever. The 2012 GTR's MSRP is $84,060 , but industry experts will tell you that it can match the performance of cars with price tags near the half million dollar mark. Visit Reliable Nissan to see Nissan's star sports car today. The 2012 Nissan GT-R is on sale now at your premier Albuquerque Nissan dealership.
Edmunds' 2012 Nissan GT-R review also states, "The triple threat of performance, technology and price means there's pretty much nothing like the 2012 GT-R." Under the hood, Albuquerque Nissan shoppers will find a fierce VR38DETT 3.8-liter twin turbo V6 that now produces 530 horsepower and 448 pound-feet of torque. The engine includes cutting-edge plasma-sprayed bores which replace the prior cast iron liners, improving fuel economy and reducing friction. Additionally, a secondary air management system is in place for improved cold-start emissions. The VR38DETT is supported by a paddle-shifted sequential 6-speed dual clutch transmission, which Albuquerque drivers can shift to race car-like speeds. The sequential-shifting transaxle includes separate wet clutches for the even (2,4,6) and odd (1,3,5) gears and pre-selects the next lowest and highest gears for immediate shifting. Hill Start Assist is also included for quick starts on steep uphill inclines. Along with all of this performance-geared gadgetry, the 2012 GTR from Reliable Nissan features an oil-cooling system controlled by a thermostat, an oil scavenger pump to maintain oil flowing to the turbochargers and a lateral wet and dry sump oiling system.
The 2012 Nissan GTR is a feast for the eyes. A restyled fascia is accented with new venting and a sculpted lower section. Its sleek profile is highlighted in beautiful paint colors like Jet Black, Deep Blue Pearl, Gun Metallic and Solid Red. As beautiful as the GT-R is to look at, its aesthetic design emphasizes functionality and performance. Muscular sheet metal arches curve over newly designed wheels. Lighter in weight and more rigid, the new 20-inch forged aluminum wheels assist in improving suspension response. Other notably performance-oriented design features include an extended rear diffuser which helps reduce air resistance and enhance underfloor cooling. The car's prominent visual presence is also heightened with newly integrated high-intensity LED running lights and aggressive double aerodynamic fins. This is a vehicle that you have to see for yourself. Visit Reliable Nissan today to get behind the wheel of Nissan's trophy supercar.
The GT-R's interior impresses with a feature-laden cabin full of high-tech amenities. Available in one primary trim, the 2012 Nissan GTR from Reliable Nissan is equipped with many features including: heated power-adjustable seats, satellite radio, Bluetooth, keyless ignition and entry, iPod connectivity, dual-zone automatic climate control, a hard-drive based navigation system, an advanced information monitor and much more. The new 2012 Nissan Black Edition adds Dunlop run-flat tires, a rearview camera, lightweight black wheels, leather Recaro seats and other unique trim accents. Visit your leading Albuquerque Nissan dealer today to learn more about the 2012 Nissan GT-R's standard and available features.
You'll find a large selection of new and used GTR sports cars for sale when you visit Reliable Nissan. Come in to browse our inventory and take a test drive!
Cruising in a Nissan GT-R from Reliable Nissan makes NM driving comfortable, safe and exciting - all at the same time! Here are the reasons why:
Reliable Nissan has a colossal stock of 2012 Nissan GT-R Midsize Coupes with standard Nissan safety features like anti-lock brakes, traction control, driver airbags, passenger airbags, side airbags and more, making the 2012 GT-R an NHTSA and IIHS favorite. In addition to these safety features, the 2012 Nissan GT-R can sufficiently seat up to 4 passengers. Trunk space with Nissan is never a worry; the GT-R can hold up to 8.8 cubic feet of your equipment, ensuring that your next vacation is hassle-free. To top it all off, the 2012 Nissan GT-R includes an astounding list of comfort and convenience extras like powered windows, mirrors, doors and locks, climate control, AC and optional hands-free phone and navigation systems. Take a test drive at Reliable Nissan today and experience the Nissan GT-R for yourself.
The Nissan manufacturer's warranty covers the GT-R for manufacturing defects and has a 3 years / 36,000 miles Nissan warranty. Nissan has worked for years to minimize its environmental impact; as a result, the GT-R's carbon footprint is minimal. Not surprisingly, with all of the GT-R's advantages, this incredible Nissan Midsize Coupe retains a high percentage of its value at 3 years and 36,000 miles, which makes the Nissan GT-R a great used buy! When seeking a safe, stylish and economical Midsize Coupe, Albuquerque Nissan buyers should head to Reliable Nissan, located at 9951 Coors Blvd. NW in Albuquerque, NM
Nissan GT-R service information for Albuquerque
Nissan GT-R lessees and owners in Albuquerque have discovered that Reliable Nissan at 9951 Coors Blvd. NW in Albuquerque is the very best choice for GT-R warranty work, regular maintenance, inspections and mechanical repairs. At Reliable Nissan, Certified Nissan Technicians trained in the very latest corrective and diagnostic techniques work for one thing - your approval. Whether it's time for your Nissan to have an oil change, air conditioning repair, or simply undergo GT-R Scheduled Maintenance, Reliable Nissan is your first choice. Our Certified Nissan Technicians also complete specialty jobs and repairs. Reliable Nissan is the smartest choice in Albuquerque for quick, respectable and professional Nissan Service of all kinds.
If you'd like to make an appointment to have your GT-R serviced, click the link or just give us a call. Visit us today!