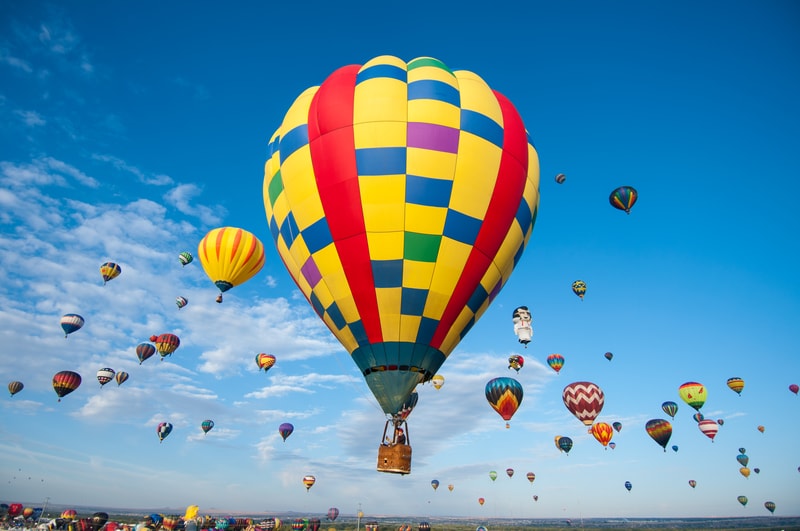 5000 Balloon Fiesta Pkwy. NE
Albuquerque, NM 87113
Oct. 7-15, 2017
The Land of Enchantment is about to get a lot more enchanting, thanks to the return of the Albuquerque International Balloon Fiesta! Now in its 46th year, the annual festival brings together thousands of spectators from around the world in celebration of this colorful sport.
As New Mexican residents, we have the benefit of having the largest hot air balloon festival in the world right here in our backyard! Whether you prefer to watch the Mass Ascension from your patio or from inside the balloon park, you'll definitely want to set your alarms to see each morning's lift-off.
Over 500 hot air balloons will take to the skies this year, including 16 new shape balloons. Hailing from all over the world, be on the lookout for a frog, an armadillo, a hedgehog, a motorcycle and even a vampire! If you're planning on attending the festival, you can also see them up close and personal before the launch or during the evening balloon glows.
While you're at the festival, don't forget to check out some of the other attractions, like the laser light shows, chainsaw carving competitions or Fiesta of Wheels Car Show. Music fans will also want to make sure to secure tickets to this year's Music Fiesta, which is being headlined by country star Billy Currington.
For parking information and a full schedule of events, visit the Albuquerque International Balloon Fiesta's website now. We hope you join your fellow hot air ballooning enthusiasts at this one-of-a-kind event!