While all Nissan models are built to provide you with a reliable ownership experience, all vehicles must be properly maintained according to the automotive manufacturer's recommendations for superior longevity. Because transmission maintenance work is only needed once every couple of years in many instances, it is easy to overlook this service. However, when the transmission is not maintained on a regular basis as recommended by the automaker, serious repair issues can develop. Your Nissan transmission is the complex system that provides control and moderation of the engine's torque and power. Its superior condition is vital to your use of your Nissan. Regardless of whether your vehicle needs its periodic transmission service or other work is required to keep it properly maintained, our service department team is ready to get to work.
When Should My Nissan Transmission Be Professionally Serviced?
All vehicles require transmission maintenance for optimal performance and to keep serious repair issues at bay. A reasonable rule to follow for most vehicles is to schedule a transmission fluid change or a transmission flush once every two to three years. This is usually in line with service every 30,000 to 45,000 miles. Remember that each Nissan model is different, and the automaker may have unique recommendations for your model. Review your owner's manual for the recommended maintenance schedule for your Nissan.
What Type of Service Is Completed with Nissan Transmission Maintenance?

Regardless of whether you schedule an appointment for a transmission flush or a fluid change, some of the same tasks will be completed on your vehicle. Both of these services include a transmission filter change and a replacement of the lubricating fluid in the transmission pan. This fluid is vital for the proper lubrication of high-friction components and to moderate the level of heat that the components are exposed to. Heat and friction are very damaging forces to the transmission, so maintaining clean, fresh transmission fluid is vital. However, the fluid in the transmission pan only accounts for approximately half of the fluid in circulation.

With a transmission fluid change, the other half of the fluid remains untouched. With a transmission flush, all remaining fluid is flushed out and replaced. This includes transmission fluid in the torque converter and in the cooler lines. To determine the right service for your vehicle, consider asking one of our service technicians to examine the current condition of your vehicle's transmission fluid. When the fluid is only moderately dirty, a standard transmission change may be suitable.
Is the Transmission in My Nissan Broken?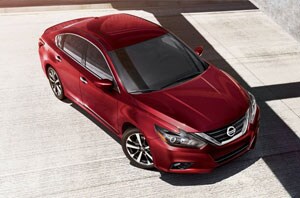 Some transmission issues in a Nissan may be so severe that the vehicle will no longer run. Many repair issues are initially small and have noticeable signs. If you are observant and respond quickly at the first sign of transmission damage, you may be able to avoid having a severe repair problem with your vehicle. Some Nissan owners will see the "service engine" light turn on, or they may smell a burning odor while behind the wheel. Other signs of transmission trouble that should be checked out immediately are leaking transmission fluid and a jerking or bumpy sensation when the engine is shifting gears. For all auto service needs involving your transmission or any other systems and components, call our service department to schedule an appointment.