Become a pro at caring for your Nissan's tires by watching our handy video!
Every day, your vehicle's tires take you wherever you need to go, helping you to arrive at your destination safely and soundly. However, after a while, tires start to wear down and require service in order to continue performing optimally!
If you're searching for a quality tire shop in Albuquerque, look no further than Reliable Nissan! We have a variety of resources for you to take advantage of, from our online service scheduler tool to our selection of service specials. Learn more about the services we provide, as well as how to diagnose and prevent tire problems, in our tire care guide below.
The Ins and Outs of Tire Maintenance
Tire maintenance doesn't sound exciting, but it can be once you think about all the benefits associated with it! From protecting your tires from abnormal wear and tear to ensuring you get the full lifespan from your tires and don't have to purchase a new set prematurely, tire service does a lot to protect you and your vehicle.
There are several aspects to tire maintenance, including:
Tire rotation and balance:

Nissan recommends that you have your vehicle's tires rotated and balanced at least every six months/5,000 miles in order to maintain uniform tire wear.

Wheel alignment inspection:

Wheel alignment inspections should be conducted annually, however, if you do a lot of driving on rough or bumpy roads, you may want to get them more often.

Air pressure checks:

Having the correct tire air pressure is very important, so it's vital to check it every month! You can do this at home using a portable pressure gauge. Any time you need a fill or your tire pressure monitoring system light comes on, make an appointment with us and we'll be more than happy to assist you.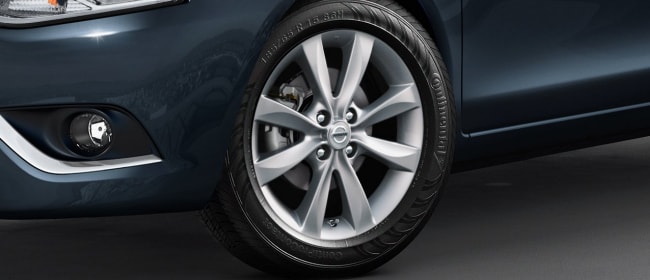 How to Diagnose Tire Problems
Whether your tires are brand-new or a few years old, it's important to pay close attention to them. Problems with the actual tire usually manifest on the surface, while other issues like an unbalanced tire or misaligned wheels can be felt when driving.
Here are a few of the more common symptoms of tire problems to look out for:
Cracking or cuts on the sidewalls


Cracking is often a result of old age or overexposure to sunlight or chemicals, while larger cuts point to damage caused by unpaved roads or running over sharp objects.

Bubbles in the sidewalls


If your tire has a bubble or bulge in the sidewall, there is likely a leak in the internal lining. This is a dangerous problem that requires immediate tire repair near me, as it is close to blowout.

Loss of air pressure


While it's normal for tires to lose air over time, sudden and constant pressure loss could indicate a leak.

Vibrations in the steering wheel or seats


If you're experiencing vibrations at highway speeds, it's likely that one or more of your tires is unbalanced. It's important to correct this problem right away, as it can cause rapid tire wear.

Vehicle pulling; off-center steering wheel


If your vehicle drives to the left or the right when you remove your hands from the wheel, you need to have your alignment checked!

Bald tires; loss of tread


If your tires look bald or the tread depth is less than 2/32", it's time for a new set of tires in Albuquerque.
A Leading Tire Shop in Albuquerque
When it's time for a new set of tires in Albuquerque, skip the trip to Discount Tire or one of the other chain stores and head to Reliable Nissan! We carry all of the high-quality brands you love, including Goodyear tires, Michelin tires and Dunlop tires, just to name a few.
Plus, when you return to our tire shop near me for routine tire service, you'll find that we offer alignment coupons and other specials to help you save!
Service Hours
Monday

7:30 am - 6:00 pm

Tuesday

7:30 am - 6:00 pm

Wednesday

7:30 am - 6:00 pm

Thursday

7:30 am - 6:00 pm

Friday

7:30 am - 6:00 pm

Saturday

7:30 am - 5:30 pm

Sunday

Closed