The life of your car's brakes is one thing you should not take lightly when it comes to the safety of your vehicle. Often credited as the top safety component a car has to offer, it's vital that you make sure your brakes are properly cared for and maintained to ensure they continue to operate at optimum levels. 
At Reliable Nissan, we recognize the importance of receiving brake service in Albuquerque, which is why we encourage Nissan drivers to follow their recommended maintenance schedule and bring their car down to our service department for routine brake inspections. Just schedule an appointment with us online in order to have your Nissan car, truck or SUV serviced.
Signs You May Need Your Brakes Repaired
There are several telltale signs you may need brake service on your Nissan vehicle. Look out for these next time you get into your car, and if you experience any one of these issues, be sure to bring your car down to our brake shop in Albuquerque as soon as possible.
Your car pulls to the side while braking
You hear squealing or grinding noises when braking
Your car takes long distances to come to a complete stop
The brake warning light is lit up on your dashboard
How Can I Prevent Brake Damage?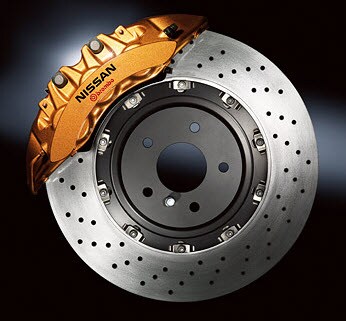 Bringing your car in for scheduled brake service in Albuquerque is the best way to avoid long term brake damage. We recommend that you have brake pads, brake rotors, brake calipers, drums and linings inspected by our technicians once your car hits 10,000 miles. By 20,000 miles, you'll have to have each of these components inspected once again, and you will need to have your brake fluid replaced.
Additional brake services will be required to keep your Nissan in tip-top shape over time. Just view our service intervals to discover when your car needs service.
For further information about our brake services at Reliable Nissan, contact us today. We look forward to hearing from you!