Albuquerque Dealer Researching the New Nissan GT-R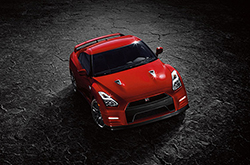 Built to go fast, the 2016 Nissan GT-R races into a new year with pure power that will leave even the most traveled performance enthusiast breathless. Available in Premium, Black Edition and NISMO models, the 2016 Nissan GT-R in Albuquerque is a stylish sports car that can be spotted around town, on windy New Mexico back roads and with gold medals at the track. Of course, medals aren't the only gold seen on this year's model as an exclusive 45th Anniversary Gold Edition rolls out to celebrate the GT-R's long legacy of success.
Shoppers seeking top-tier performance will not be disappointed with this year's GT-R lineup that has been praised for its "Olympian powertrain" in Edmunds.com's 2016 Nissan GT-R review. If you are looking for lightning-fast speed, you will be enamored with the ultra-powerful GT-R NISMO rated at 600 horsepower. Based off Nissan Motorsport's racing grade technology, the NISMO is stacked with carbon fiber accents, an elite-tuned suspension, additional cooling air ducts and an intelligent NISMO tachometer.
While the NISMO is a must-have for racers looking for top-of-the-line power, sports car buyers with an itch for speed will be satisfied with the GT-R Premium and Black Edition models. After all, they both rev a handcrafted 3.8L six-cylinder that pairs with a dual-clutch six-speed transmission for a sporty ride from the first press of the pedal. Standard with downshift rev matching, an all-wheel drive rear-mounted transaxle system, adjustable driver modes and first-rate Brembo brakes, the Premium GT-R starts the lineup off right. For buyers hoping for extra luxury alongside the top-tier speed, 2016 Nissan GT-R reviews recommend the upscale Black Edition model. Building upon the Premium with a carbon-fiber rear spoiler, 20" special dark-finished RAYS wheels, and Black and Red Recaro front seats, the Black Edition settles the gap between the Premium and NISMO trims.
There is no going wrong with the base Premium though, as the cabin comes standard with exceptional features like a 7-inch touchscreen monitor with navigation, Bluetooth technology, leather-appointed seats, a Bose audio system with Active Noise Control, DVD video playback capability and a HomeLink Universal transceiver. Throw in the special "Silica Brass" color, special gold-tone VIN plate and commemorative plaque and the Gold Edition is an equally desirable option for GT-R enthusiasts.
Fast, luxurious and geared up for life's adventures, the 2016 Nissan GT-R in Albuquerque is available and ready to be test driven today.