Nissan Dealership in Albuquerque Reviews the 2015 Xterra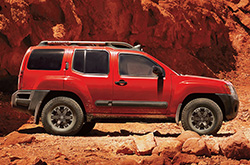 The 2015 Nissan Xterra is one of the most popular SUVs on the market today thanks to its terrific features, functional interior and off-roading capabilities. For the new model year, the 2015 Xterra carries over most of its features, but adds a few enhancements that will have Albuquerque's "weekend warriors" very excited. Stay tuned to our 2015 Nissan Xterra SUV review to learn all about the new amenities on this fantastic vehicle.
Most of the new features and enhancements are on the base S model. The 2015 Nissan Xterra S gets a new paint color (Beacon Yellow) as well as upgraded tech amenities, including a 5-inch color display, hands-free messaging, USB/iPod ports and NissanConnect. 2015 Nissan Xterra drivers in Albuquerque will also have the option to subscribe to SiriusXM Satellite Radio.
Our 2015 Nissan Xterra review found that the 261 horsepower 4.0-liter V6 and its optional 2- and 4-wheel drive offered exceptional power for those looking to make the Xterra either a fun town car or off-roading truck. To that end, we recommend the two-wheel drive's five-speed automatic transmission for those who just want to the cargo space and comfort of the Xterra, while the four-wheel option's six-speed manual or automatic transmission is the best bet for drivers wanting to utilize the Xterra's off-roading capabilities.
Speaking of off-roading, the 2015 Xterra's interior is perfect for those long treks in to the wilderness: with tough upholstery, easy-to-clean surfaces and extra storage space, you won't find a better off-road vehicle. You'll also find a large center console, Hill Start Assist, Hill Descent Control, a double glovebox and 66 cubic feet of cargo space.
The 2015 Nissan Xterra is now available in Albuquerque, so stop by our showroom and test drive this excellent SUV today.
Continue reading our review of the 2015 Nissan Xterra below, which offers exclusive pictures of the new model as well as a video review that highlights the SUV's best features and amenities.