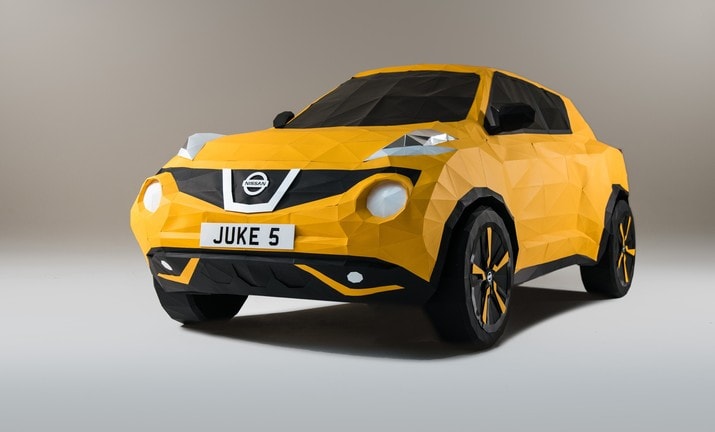 Nissan is celebrating their very popular Juke crossover with the glorious art of paper folding. Working with origami artist Owen Gildersleeve, the automaker created a life-size Juke made of origami.
Gildersleeve used more than 2,000 pieces of paper to create the Origami Juke, recreating the crossover's bold lines and unique grille, as well as its wheel fender and headlamps. It is a truly impressive piece of art that combines both gorgeous Nissan engineering and the ancient Japanese tradition.
"The first step of any car design involves putting pencil to paper," said Darryl Scriven, design manager at Nissan's Design Center for Europe. "From that simple start, it's a complex journey to production involving hundreds of skilled people, thousands of man-hours and millions in investment. So we think it's very apt that on its fifth birthday, we celebrate the Nissan Juke with a tribute that harks back to that simple, but bold, first step – all carried out with Nissan's signature innovation and excitement of course."
The Nissan Juke is widely credited with reviving the crossover market and making it the booming segment that it is today. Wildly unique, incredibly agile and wonderfully reliable, the Juke has earned fans around the world.
Take a look at the video below to see Gildersleeve and his team assemble the Origami Juke. To get behind the wheel of your very own Juke model, stop by Reliable Nissan today and take it for a test drive!
?