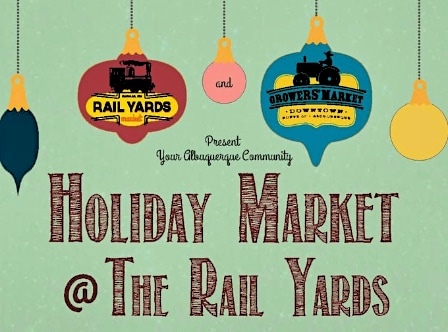 Rail Yards Market
777 1st St. S.W.
Albuquerque, NM 87102
Dec. 9-10, 2017
​12-4 p.m.
Racking your brain over what to get your relatives for Christmas? Stop panicking and head to the annual free Holiday Market! With nearly 200 vendors on site, you're sure to find the perfect present for everyone on your list. Best of all, the Holiday Market will be open for two days this year, giving you and your family more time to shop.
Like past years, everything is hand-crafted and locally sourced—you won't find any big brands or mass-produced products here! From clothing, jewelry, wood crafts and glass art to lotions, sugar scrubs, soap and essential oils, there are plenty of unique gifts to explore. Planning on making a dish for a work potluck or holiday party? There will also be a fine selection of fresh produce, baked goods and other locally made treats.
Once again, there will also be an Ornament Exchange, so be sure to bring along any old ornaments you'd like to trade or donate. Additionally, if you're really in the giving spirit, you can drop off a toy or book for a child in need at the Donation Station. For more information, visit the Rail Yards Market website.
Have a merry and bright holiday season!