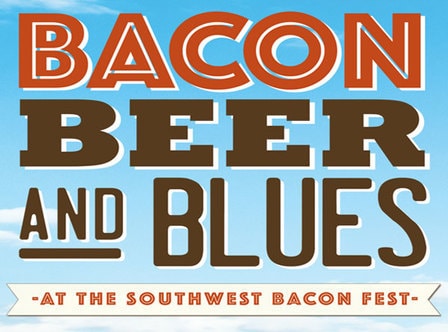 Bacon pizza, bacon cheese fries, bacon donuts—whatever your deep-fried vice is, the annual Southwest Bacon Fest is sure to have it! Returning to Albuquerque on Saturday, April 15, this year's festival is themed "Bacon, Beer and Blues," bridging together local chefs, craft brewers and musicians for one delicious, family-friendly celebration.
Over 50 local eateries—including restaurants, bakeries and food trucks— will be in attendance at this year's festival, offering a unique assortment of bacon-inspired dishes and desserts you won't find anywhere else. From bacon macaroni and cheese to bacon egg rolls and even bacon-infused snow cones, there are plenty of one-of-a-kind creations to sample from 11 a.m. to 5 p.m. Those who really want to go hog wild and prove their love for the crispy treat can also enter a bacon eating contest.
The festival is also a celebration of two other great "b's": beer and blues music. A dozen local breweries will be on site serving up their top brews, while local blues bands will keep the crowd's energy level high. If you're planning on bringing the little ones along, there's also a free kid's zone for them to enjoy, complete with bacon-themed games and bounce houses.
Tickets for this local spring festival start at $8, which covers admission for attendees 13 and older. Kiddos 12 and under are free! If you're planning on doing a lot of snacking, you may want to consider opting for the Bacon and Beer Premier Pass, which includes admission and eight food tickets for only $35.
For additional information on the Southwest Bacon Fest, including hours, parking information and a list of vendors, check out their website! You can also buy tickets online now to secure your spot at this popular ABQ event.